UD at EAA Airventure Oshkosh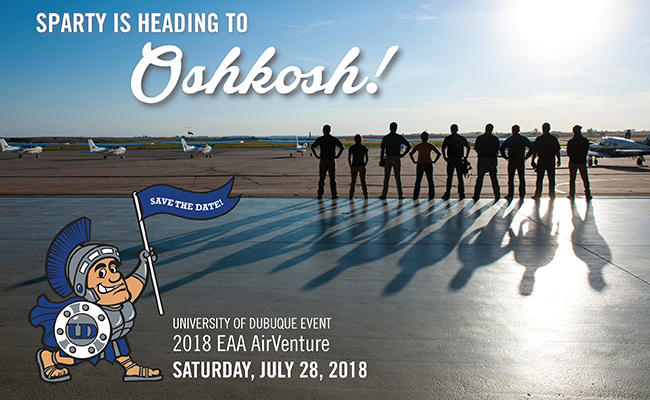 The Office of Alumni Engagement invites you and a guest to join us on the Rooftop Patio at the Hilton Garden Inn for the World's Greatest Aviation Celebration.
Saturday, July 28, 2018
6:00 p.m. | Reception with Food and Cocktails
University Update and Presentation on the new Aviation Center
Enjoy the evening airshow and fireworks with the best view in Oshkosh!
Rooftop Patio, Hilton Garden Inn - Oshkosh
1355 W 20th Ave
Oshkosh, WI 54902
NOTE: If you are on the EAA Grounds - no need to leave, just take the
AirVenture North 40 Shuttle. To view the shuttle map, click here.
Event is compliments of the Office for Alumni Engagement.
Make plans to attend today! More details and RSVP info to follow.
Questions? Contact Katie Kraus, director for alumni engagement, at 563.589.3161 or KKraus@dbq.edu
---
Stop by the UD Aviation Booth
Education and Career Center
Booth C34 and C35
All alums who check in at the booth will receive a FREE UD Aviation t-shirt