Class of 1968 Reunion Page
Homecoming and Reunion Preview
Plans are well underway for our 50th Class Reunion during Homecoming Weekend (October 25-28, 2018). And we want to see you there! Our goal is to get as many of our classmates together as possible and have the opportunity to visit, reminisce, and celebrate. Not only will we have the opportunity to gather as a class, but with all of our fellow Spartans from surrounding class years -- a true UD celebration like we used to have. While in Dubuque, we created memories and friendships to last a lifetime. Let's not miss this opportunity to make even more memories - so make plans to attend the party on October 26. Formal invitation and more information to come.
If you have questions regarding the Reunion Celebration, please contact one of the C'68 committee members listed below.
---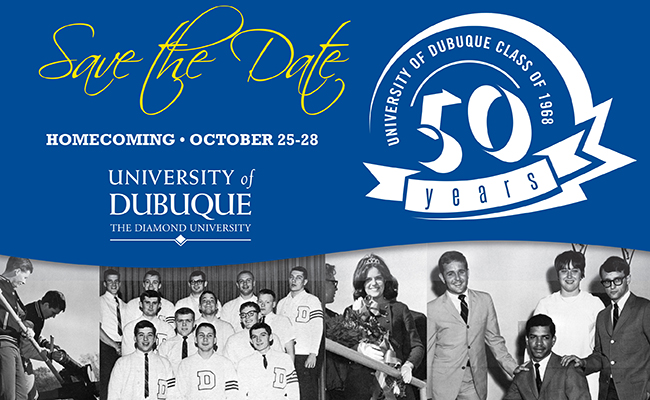 ---
C'68 Reunion Committee Members
| | |
| --- | --- |
| Name | E-mail |
| Dave Bettridge | ddbett@gmail.com |
| Paul Clayton | paulclayton@optonline.net |
| Bill Crandall | bwcrandall46@gmail.com |
| Royce Farmer | rwfarmer@lisco.com |
| Kathy Farmer (Haselton) | kfarmer60@lisco.com |
| Pat Franzen | franzen@mtco.com |
| Tom Greenawald | tgreenawald@gmail.com |
| Rich Heinisch | dubiousdic@aol.com |
| Chuck Moody | chuckmood@machlink.com |
| Nancy Sudlow (Doyle) | sudlowe@comcast.net |
| Nancy Tooker (Rogers) | tooker@essex1.com |
| Paul Lyons | mr1040@hotmail.com |
---
See Who is Coming!

Dave Bettridge
Paul Clayton
Bonnie Clupper
Bill Crandall
Kathy Farmer (Hazelton)
Royce Farmer
Judy Frank
Pat Franzen

Tom Greenawald

Sharon Groom (Davis)
Judy Hay
Rick Heinisch
Ellen Heitka
Sue Olson (Hibbs)
Paul Lyons
Chuck Moody
George Parthermore
Bucky Peterson
Carol "Cookie" Spencer
NancySudlow
Larry Tooker
Nancy Tooker (Rogers)
Bill Wagner
Roy Wicklund
---
---
Submit Your Favorite Memory
We invite you to share your favorite memories from your days on campus!
You may submit your memories electronically by completing the form below, or by mail to:
Director for Alumni Engagement
University of Dubuque
2000 University Ave
Dubuque, IA 52001