1959 Cross Country Team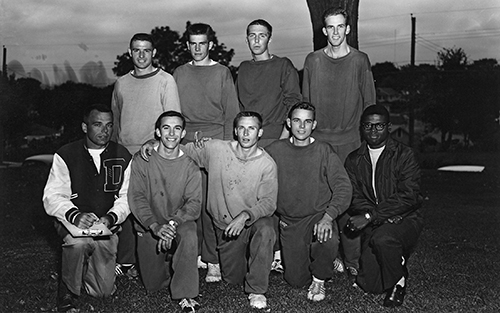 Front Row: Head Coach Geoge French (C'56/MDiv'63), Peter Boyd (C'62),
Blair Bowling (C'61), Bill MacFarlane, and Starling Jenkins (Manager).
Back Row: John Hudson (C'60), Tom TeBockhorst, Ron Mensach, and Bob "Tex" Johnston (C'62).
---
1959 was the first year the University of Dubuque had a varsity cross country team and the team of seven made an impressive first impression. To start the season, the team went undefeated with perfect scores against Simpson and Luther. At the Iowa Conference Championships they became the first team in conference history to have a perfect score (taking the first five places). Boyd paced the Spartans with a first place finish followed closely by MacFarlane (2nd Place), TeBockhorst (3rd Place), Hudson (4th Place), Johnston (5th Place), and Mensach (7th Place).
They went on to compete in the Amateur Athletic Union (AAU) and took second place. MacFarlane and Boyd were in the lead for the first mile at this event, but a course official sent them in the wrong direction by 75 yards. Once they were back on the course, they were trailing 39 other competitors. The team also took sixth place at the National Association of Intercollegiate Athletics (NAIA) National Cross Country Championships.
"An individual victory is nothing without a team victory," according to both Peter Boyd and Bill MacFarlane in a Telegraph Herald article from fall 1959.