1982 Volleyball Team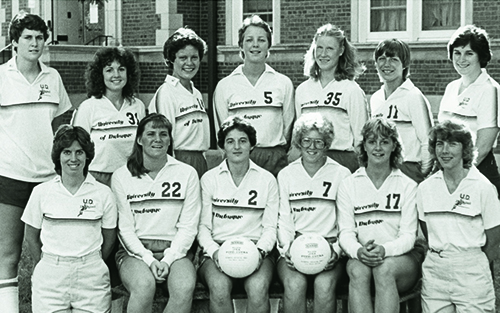 Front Row: Dianne (Bruggeman) Hanten - Assistant Coach, Peggy Egan, Lori (Anda) Bowen,
Lori Pitz, Lori (Kamp) Wieters, and Lisa Herb - Head Coach.
Back Row: Paula Manternach - Manager, Darla (Calvert) Austin, Janice (Thielen) Snead, Chris Schiefelbein,
Jan (Jacobs) Unruh, Lynn (Werner) Williams, Dawn (Overstake) Wolfcale - Manager/Trainer.
---
The 1982 University of Dubuque women's volleyball team had three goals in mind to start the year: to improve on last season's remarkable 45-8 record, to win the firs-ever Iowa Conference Championship, and to advance to postseason tournament play. The nationally ranked UD women left their mark on the court with a record breaking 46 wins and won the IIAC Championship by defeating Central in the finals 17-19, 15-2, 15-7. The Spartans went 3-0 in pool play and didn't lose a set in the first two rounds of the tournament.
The Iowa Conference Most Valuable Player award went to Lori Anda (Hall of Fame Class of 2003-04) and Lisa Herb (Hall of Fame Class of 2002-03) was named Iowa Conference Coach of the Year. First Team All-IIAC honorees were Lori Anda, Jan Jacobs (Hall of Fame Class of 1996-97), and Lori Kamp (Hall of Fame Class of 2008-09). Second Team All-IIAC selections were Jan Thielen (Hall of Fame Class of 2001-02) and Lynn Werner.