1987-88 Men's Basketball Team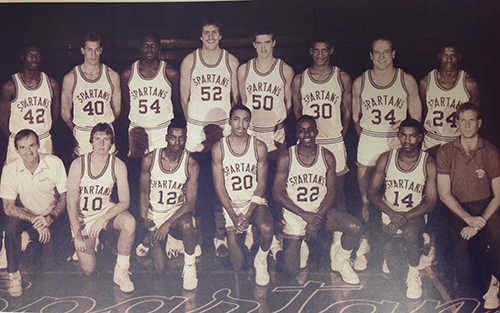 Front Row: Head Coach Jon Davison, Jim Davison, Grayling Gordon, Todd Millon,
Courtney Battle, Rogers Laugand, and Assistant Coach Jon West.
Back Row: Creshon Harris, Dave Foster, David Crawford, Gary Carpenter,
Greg Franken, Damon Rogers, Scott Buchman, and Rufus Bennett.
---
Success breeds more success. That statement can best summarize the 1987-88 men's basketball team. For the second time in three years the Spartans won the Iowa Conference Championship and advanced to the finals of the NCAA Division-III West Regional Tournament.
Under the leadership of twenty-one year Head Coach Jon Davison, the 87-88 Spartans squad matched the school record of 21 wins in a season with a 21-7 record. Davison was named Iowa Conference Coach of the Year for the second time in three seasons for his outstanding coaching prowess. Dubuque made shambles of what was expected to be a balanced and tight IIAC race by winning its last 12 regular season games and posting a 14-2 league record. By winning the conference championship the Spartans received an automatic bid to the 32-team NCAA Division-III Tournament. For the first time ever, Dubuque hosted the four-team West Regional and advanced to the Sweet 16 as one of the final 16 teams in the nation.
The 1987-88 Spartans were led by senior Todd Millon, who finished as one of the top ten scorers in school history with more than 1,000 points to his credit. At the conclusion of his Spartan career his jersey was retired. Two fellow seniors finished their careers along with Millon. Dave Foster, a four-year letter winner with a 60% shooting percentage and Scott Buchman, a two-year starter who contributed extensively to the success of the 87-88 squad.
Besides the senior leadership, Coach Davison and his assistant coach Jon West relied heavily on the solid group of underclassmen. Juniors Gary Carpenter, Grayling Gordon, Rogers Laugand, Jim Davison as well as sophomore Greg Franken were essential providing depth and versatility.
The championship team was also graced with an exceptional freshman class of five young men who accounted for 33% of the team's points during the season. David Crawford led the group, averaging 10 points and seven rebounds per game. The corps of freshman also included Courtney Battle, Damon Rogers, Creshon Harris, and Rufus Bennett.