Amanda (Dickson) Jushka ('97)
Basketball - Volleyball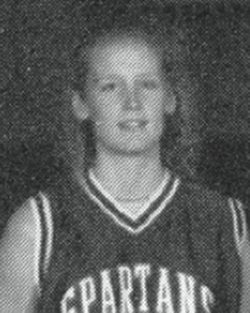 Amanda (Dickson) Jushka (C'97) joined the University of Dubuque from Milton, Wisconsin as a basketball recruit. Upon her arrival on campus, she was asked to join the volleyball program by Head Coach Connie Bandy Hodge. She joined a recruiting class which developed into a national caliber squad. Amanda, as a 5-11 outside hitter, led the Spartans to an Iowa Conference Championship in 1995.
She made UD history as the first volleyball NCAA All-American earning second team honors in 1995. She was a NCAA All-Region selection in 1995 and earned Second Team All-Iowa Conference in 1994 and 1995. The Spartans earned a berth in the NCAA Tournament in 1994 and 1995, advancing to the Sweet 16 in 1995.
In basketball Amanda was a Conference Defensive Player of the Week, named to Dan Donovan All-Tournament Team and held the UD record for most free throws made in one game.
Amanda taught English for 13 years before becoming an assistant principal at an alternative high school in Rockford, Ill. She coaches volleyball for Middleton High School, and has made five state appearances over nine years of coaching. Amanda and her husband, Jeff, have three children; Lauren, Logan, and Lucas.