Basil Steele ('05)
Track & Field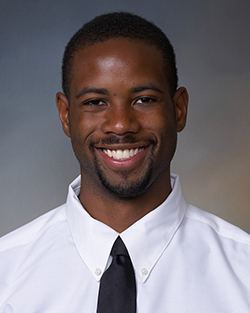 Basil Steele joined the track and field team after graduating from Sandia High School in Albuquerque, New Mexico. As a freshman he won two events at the Hilltop Invitational, including automatically qualifying for the NCAA Indoor Championship in the 55-meter hurdles with a time of 7.54 seconds. He would go on to finish 3rd earning his first of four NCAA Division-III All-American honors that he would earn as a Spartan. Steele would go on to win the NCAA Indoor 55-meter hurdles Championship in 2003, 2004, and 2005, posting a career best 7.43 seconds as a Senior. His NCAA Indoor Track & Field Championship was the first in UD history.
Steele was also a five-time Iowa Conference Champion. He won three straight Indoor 55-meter hurdle titles from 2003-05. He also won back-to-back titles in 2003 and 2004 in the Outdoor 110-meter hurdles. He was also named CoSIDA First Team Academic All-America and First Team All-District in 2005. In 2003, he set the IIAC indoor meet record and held the second-fastest time in school history in the indoor 200-meter intermediate hurdles with 25.63 seconds. He was also a finalist for the Duane Schroeder IIAC Scholar Athlete of the Year Award.
In addition to his sports accomplishments, Basil was actively involved with student organizations and programs, including Student Government, Black Student Union, and was a Wendt Character Scholar.
Since graduation, Basil has moved to Albuquerque, New Mexico, where he and his wife, Courtney, currently reside. Basil is a CGIM professor at Central New Mexico Community College.
Track Accomplishments:
• Three-Time 55m Hurdles Indoor Track National Champion (2003, 2004, 2005)
• Four-time NCAA 55m Hurdles All-American (2002, 2003, 2004, 2005)
• NCAA Division III-Track Coaches Association All-Academic Award
• First Team CoSIDA Academic All-America (2005)
• School Record: Indoor 55m Hurdles (7.43)