Bret W. Johannsen ('50)
Baseball - Track & Field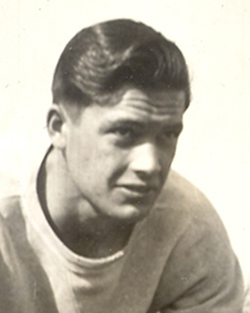 Bret W. Johannsen, nicknamed "The Jet" for his tremendous kick at the end of races, was the 1950 Iowa Conference champion in the mile. He was a four-year letter winner in track where in addition to the mile Johannsen competed in several middle distance races, the mile relay, and was a member of the baseball team. During his tenure, the Spartans posted runner-up at the IIAC Championships for three straight years and was team captain in 1948. In 1950, Johannsen won the 1-mile relay at the Iowa Conference Championships.
Courtesy of a Ford Foundation Fellowship grant, Johannsen earned his Master's degree in Education from NYU and a specialist degree from the University of Iowa in Education. In addition, Johannsen served 18 months in Japan and Korea, attaining the rank of First Sergeant for the Army.
Johannsen, a Dubuque native, enjoyed two teaching stints at Washington Junior High in Dubuque that spanned 30 years before moving the Jones Junior High as Principal in 1985. In 1991 he retired with 42 years of service to the Dubuque school system.
Johannsen served as a volunteer at the University of Dubuque for more than 50 years, beginning in 1945 as a draft instructor for special needs students. He also aided in the administration of the intramural athletic program and served as sports editor for the yearbook. In 1956 Johannsen became President of the Blue and White Club, then from 1959-1987 he worked as a referee for numerous campus sporting events. A former member of the Alumni Board of Directors, in 1996 Johannsen received the Alumni Volunteer Recognition Award. He was an instrumental figure in establishing the Alumni Athletic Hall of Fame in 1989 and served as its chair-person until his death in 1996. He is also a member of the Dubuque Senior HS Athletic Hall of Fame.
Johannsen's dedication to UD was second only to his dedication to his wife, Deloris, and their five children. His father, mother's five sisters, brother, daughter, and granddaughter are also graduates of the University of Dubuque.