Brian McGregor ('59)
Football - Track & Field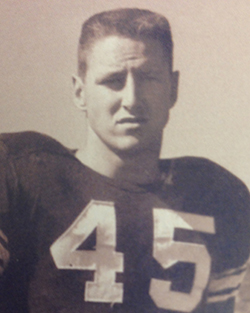 Hailing from an athletically adept family, it is no surprise Brian McGregor (C'59) has done his part to continue the family tradition. His lineage includes a seven-time Canadian paddling champion, track sprinters, multiple coaches, NFL player and the president of an MLB team. McGregor did not head off to college immediately following high school, as he wanted to pursue his dream of competing in sports at a higher level. That dream was realized when he was chosen to attend the Canadian Olympic Track & Field Training Program.
In 1955 Brian accepted an athletic scholarship to UD. As a Spartan football player, he was selected All-Iowa Conference, NAIA All-District and Honorable Mention AP "Little" All-American. In track he was a sprinter, long jumper, team captain, and conference champion.
Upon completion of his degree, McGregor sought to combine his athletic talents with his desire to make an impact on youth. He returned to Canada to play for the Montreal Alouettes of the Canadian Football League (CFL). While with the Alouettes he also coached seventh grade basketball. It was the first step in his incredible lifelong career of coaching and teaching.
As a Colorado high school football coach, his record was an astounding 176-99-1. Coach McGregor has been the recipient of many individual coaching awards: League Coach of the Year, State Coach of the Year, All-Star Game Coach, National High School Football Coach of the Year nominee, and Don DesCombes Distinguished Service Award. After coaching in four countries on three continents, he was inducted into the Jefferson County Athletic Hall of Fame in 1999. He retired in 1992 after 34 years as an educator.
He then played two years of semi professional baseball, where he earned a major league tryout with the Boston Braves.
Brian and his wife - fellow UD grad Margaret (Smith) - have four children: Terri, Tammi, Keli, and Cindi. They also have 10 grandchildren. After leaving education in 1992, Brian returned to coaching in 1994 when he coached for the United Asian Professional Football League in Taiwan, and again in 1995 as coach of Germany's Berlin Rebels of the European Football League.