Christina (Morrison) Basich ('86)
Basketball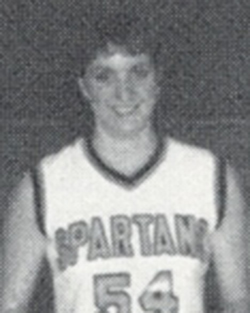 Christina (Morrison) Basich was a four-year participant in basketball and track. As a First Team All-Iowa Conference selection in 1984-85, Basich is UD's career leader in scoring and rebounds. While a Spartan, Basich and the Spartans played in a European tournament in 1985. She was a four-year starter on the Women's Basketball team and the all-time leading rebounder at the University of Dubuque. Basich graduated with 979 career rebounds, leading the team all four years. The Spartans center averaged 13.0 points per game and 10.3 rebounds per game in 95 career games. She graduated as school all-time leading scorer with 1,235 points (6th Place as of 2006). On the track, she holds the indoor 300 meter and 4x400m relay records. She was also part of record-setting indoor teams in the 4x400, 4x100, and 800 meter medley relays.
Following her UD career, Basich was recruited to become a professional basketball player in Luxembourg in 1986 and was a member o fthe Prairie State Games in 1987-88. She also played for several years in Chicago-area leagues. In 1988 Basich organized the first women's basketball alumni game at the University of Dubuque and has played in it since its founding.
In addition to working as a high school English teacher, Basich has worked as an athletic trainer. As a coach, she has been a part of girl's basketball and track, several summer basketball camps and her son's baseball team.
In 1992 she married Michael Basich. She cites her greatest accomplishment as the birth of her twin sons, Nickolas and David.