Clarence Parker ('19)
Baseball - Basketball - Football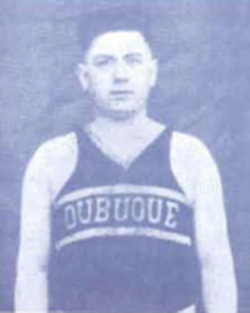 An outstanding football, basketball, and baseball player, Clarence Parker led the University of Dubuque football team to three straight Hawkeye Conference Championships. He was noted for his exceptional running and kicking ability. He was an all-conference halfback and the state's top drop kicker. As a freshman he scored all of his team's points - three touchdowns, two extra points, and a 47-yard field goal - in a 23-0 victory over Campion College. That season he made drop kicks of 46, 47, and 50 yards. As a sophomore he converted a 52-yard drop kick.
Parker (Clarence Perkins) was a standout baseball player for Dubuque. As a freshman he led the Spartans in hitting (.567), and fielding (.966). He added a .444 batting average as a sophomore and eventually went on to play professional baseball. At the age of 22 he made his Major League Baseball debut as an outfielder with the St. Louis Browns. In three career games at the MLB level, Parker went 1-6 with 1-RBI. In basketball he was team captain and earned All-State honors at guard, helping Dubuque to the 1920-21 conference championship.
He later became a respected teacher, athletic director and coach at Stevens High School in Claremont, N.H., winning numerous athletic championships in both boys and girls sports.
- from 1989 Hall of Fame program