Connie Bandy-Hodge
Athletic Administration - Volleyball | Hall of Distinction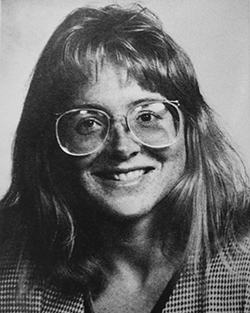 Connie Bandy Hodge's passion for life, her competitive drive, and athletic prowess have forged her into the person she has become. After earning her bachelor's degree from Loras College and her master's degree from the University of Iowa, Connie was a part of University of Dubuque's Athletic Department from 1991 to 1999. She started as the head women's volleyball coach and then took on the role of director of intercollegiate athletics. During the five years Connie coached at UD, her volleyball team went from 3-30 to 38-8, and advanced to the NCAA Division-III Championships in back-to-back years. In 1995, the volleyball team won the Iowa Conference Championship and advanced to the NCAA Sweet 16. Nearly 20 years after stepping down as head volleyball coach, Connie is still second all-time at UD in career wins with 111. In 1999, Connie resigned from the University of Dubuque to pursue her PhD at the University of Iowa.
Connie has always been recognized as a leader. At Dubuque Senior High School, she served as team captain for each of the sports teams that she played: tennis, softball, volleyball, and basketball. She earned 13 letters from her respective teams. After high school, Connie has coached for the University of Iowa, Loras College, and then University of Dubuque. Along with being inducted to both Dubuque Senior's (1994) and Loras' (1987) Halls of Fame, she was also selected as Head Volleyball Coach of the Year (1994) by the American Volleyball Coaches Association. In 1991, 1993, and 1995, she was named Volleyball Coach of the Year in the Iowa Intercollegiate Athletic Conference.
Connie has served as the president and as a board member of the Thunder Hills Country Club. More recently, she is a personal trainer and is the president of her own business that focuses on fitness consulting, health and wellness, and motivational speaking. She is also the race director for a local charity marathon, Run4Troops, which raises money to support local military personnel — past, present, and future. While at the University of Dubuque, Connie proved her physical strength by competing as a body builder and qualified for National Couple's Body Building Competition. In 2002, at the age of 42, Connie and her team completed the Raid Gauloises, a 620 mile adventure race, which took her to the deep jungles of Vietnam.
Connie's greatest personal highlight would be her family: her husband of 30 years, Tim Hodge, her son Zachary, and her daughter Jordan. The Hodge family resides in Dubuque.
Volleyball Accomplishments:
• AVCA Central Region Coach of the Year (1994)
• Iowa Conference Coach of the Year (1992, 1995)
• Two-time NCAA Championships Qualifier (1994, 1995)
• Iowa Conference Regular Season and Tournament Champion (1995) - See more at: http://www.dbq.edu/NewsandEvents/NewsArchive/2015-16/2015-Alumni-Athletic-Hall-of-Fame.cfm#sthash.svrl5Xvu.dpuf