Damon Rogers ('91)
Basketball - Tennis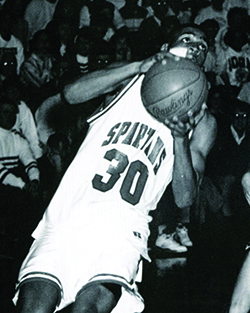 For Damon Rogers (C'91), playing basketball is as necessary and essential as breathing. Well liked on and off the court, Damon lettered in basketball all four years. Rogers was co-freshman of the year in 1988, defensive player of the year in 1989, Second Team All-Iowa Conference in 1990, and First Team All-Iowa Conference in 1991. Along with basketball, Damon played tennis at UD from 1987-1989.
A record at the time, Damon made seven three-pointers in one game. This achievement, along with other amazing games during his four years at UD helped him become the all-time career leader in three-pointers made with 122 career threes. He graduated as the fourth leading scorer in UD's history with 1,556 career points. Not one to miss a game, Rogers played in 108 consecutive games!
The Spartans won two Iowa Conference Championships during his time at UD - a memory that Damon will cherish forever. Damon went on to play professionally in Czechoslovakia for some time after graduation. Damon is currently working with a dynamic group of young players as an assistant coach for Hempstead High School in Dubuque, where he also serves as a para-professional. He continues to catch as many UD games as possible and is thrilled that our court in named after his coach and UD Hall of Famer Jon Davison (C'61). Damon enjoys spending time with his four daughters - Katlyn, Olivia, Sophia, and Jordyn.