David Bacon ('67)
Football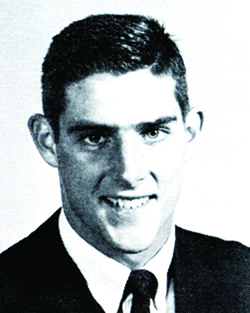 As a University of Dubuque Spartan, David L. Bacon (C'67) has an impressive resume. A football four-year varsity starter, David earned the distinguished recognition as one of the best receivers in the nation during his senior year, gaining All-Iowa Conference, All-NAIA District 15 honors, and Honorable Mention NAIA All-American. David caught 68 passes for 647 yards his senior season.
David played quarterback as a freshman, but switched to offensive end his sophomore year. He became infamous in the conference and fought off as many as three and four defenders to catch the pass. Bacon was picked to play in the Iowa College All-Star game, where the best players from Iowa's smaller colleges take on the best players from the University of Iowa and Iowa State.
Bacon ventured west to UD from Darien, Connecticut with fellow classmates Chuck DeFarkas and Warren Reininger. Dubbed the "Three Ponies of Darien," all three made the varsity football team as freshman. In high school, David excelled in football, hockey, and was the Darien High School tumbling champ in '61-'62.
Over the years David has continued to be active in sports at a high level. He's competed in the Black Coal National Motorcycle Enduro, Pike's Peak Marathon, 450-mile Ride the Rockies Bicycle Ride, Colorado Springs to Aspen bike ride, and completed the Triple Bypass bicycle ride. More recently, Dave and his wife Bonnie enjoy bike riding, snowmobiling, motorcycle touring, and hiking.
Dave has enjoyed a successful business career and a wonderful family life. He and Bonnie have two children - Greg and Elizabeth - and six grandchildren. More and more, his time is now committed to watching the budding interests of his six grandchildren grow.