Dawn (Laubach) Tschiggfrie ('88)
Basketball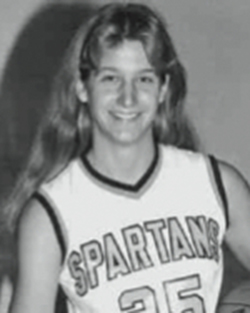 During the Fall of 1984, Dawn (Laubach) Tschiggfrie (C'88) arrived at the University of Dubuque after graduating from Wauconda High School. Her love and passion for basketball carried over into a very successful four seasons as a Spartan. Named Second Team All-Iowa Conference during the 1987-88 season, Dawn helped lead the 1988 team to one of the best records in Women's Basketball history at UD.
Dawn was not only active on the court but off the court as well. With a dream to become a C.P.A., Dawn declared her major as Accounting and became active as the SGA treasurer. She competed in the Campus Ministry - sponsored Crazy Team Pentathalon where over 60 UD students participated in unusual events. Dawn was also a mentor to incoming students by serving on the New Student Days Committee.
At the time of her graduation she ranked fourth all-time in career points with 851 points (currently 10th as of 2007), fourth all-time with 537 career rebounds (currently 9th as of 2007), and held the school record for career field goal percentage at 50.4% (currently 4th as of 2007). She played with determination and always had a smile!
Dawn has worked for the Internal Revenue Service as a Revenue Agent for 20 years. She is currently married to UD graduate Michael Tschiggfrie and they have two children, Courtney (20), and Matthew (16).