Deb (Young) McDonnell ('96)
Volleyball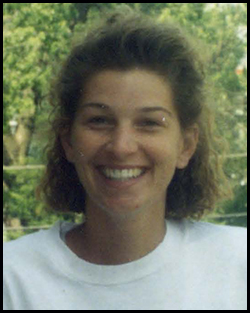 Deb (Young) McDonnell, of Asbury, Iowa, followed in the footsteps of her mother, Margaret (Hartig) Young (C'71), and graduated from the University of Dubuque. McDonnell played volleyball all four years for the Spartans.
The Spartans went a combined 67-15 during Deb's junior and senior seasons making the NCAA Division III Championships each year. McDonnell is still the UD career leader in matches played with 154.
McDonnell married her high school sweetheart, Mark McDonnell, and they have three children, Sam, Luke, and Elle. McDonnell, her sister, and their parents opened Young-uns Preschool & Childcare Center in Dubuque. McDonnell is the co-director, coordinator of the 0-3 year olds, and handles finance for the family business.
STATS
All-Iowa Conference (First Team: 1994, 1995; Second Team: 1993)
1995 Volleyball team went 37-7 overall and 10-1 in the IIAC
Won IIAC Regular Season Championships and IIAC Tournament Title
Team advanced to Sweet 16
Multiple All-Tournament Team selections
School Record Holder with 154 matches played
Top-10 in Attack Percentage, Set Assists, Total Blocks, and Solo Blocks