Donald Emery ('39)
Football - Track & Field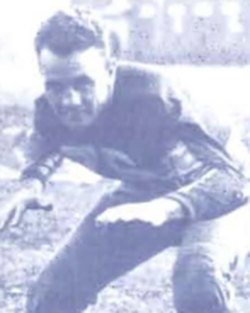 Donald Emery was a four-year letterwinner in football and track for the University of Dubuque from 1936-39. In football he was a defensive end and on offense a superb blocker and pass receiver, earning All-Iowa Conference at End in 1938 and serving as team captain. In track he won the 1936 Iowa Conference championship in the pole vault with a best of 11'6", breaking the school record which had stood since 1917. He later posted a career best 12'2" in the vault.
He also dabbled in wrestling and boxing and won the middleweight championship at teh Iowa Golden Gloves in 1937. Off the field he resurrected the long dormant D Booster Club and served as President from 1937-39. Emery was named the UD Outstanding Senior Student-Athlete in 1938-39.
Following graduation he spent 38 years in athletic administration including coaching at Nebraska State College. From 1960 until his retirement in 1977, he was director of Health, Physical Education and Athletics for the Bellingham, Wash. public school system. He also published the successful HANDBOOK FOR HIGH SCHOOL ATHLETIC DIRECTORS which is used widely in the United States, Canada, and several foreign countries. He was also inducted into the North High School Hall of Fame.
- from 1989 Hall of Fame program