Douglas Wilson ('81)
Football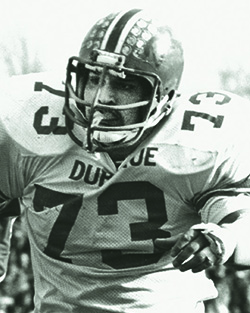 When Doug Wilson (C' 81) reminisces about his days as a student-athlete at the University of Dubuque, first on his list is being a member of the first football squad that was recruited by legendary football coach Don Birmingham. He was a member of Birminghams football teams that went on to win three consecutive Iowa Conference titles in 1978, 1979, 1980 and earned berths in the 1980 and 1981 NCAA Division-III Playoffs.
Doug was named an All-Conference Offensive Lineman in his junior and senior years, as well as being recognized by his teammates with the Top Offensive Hitter Award. He was also voted Most Valuable Lineman in his senior year.
Birminghams 1979 team was undefeated in Iowa Conference play and won its first absolute Iowa Conference title for the University since 1948. During that outstanding season, the squad led the conference in team rushing with 1,559 yards while allowing only 165.3 yards per game.
While in high school, Doug was a top competitor as a wrestler, going on to win his high school conferences Heavyweight Championship. After a stellar high school football career in which he was named an All Conference player in both his junior and senior years Wilson enrolled at UD.
Doug and his wife Kris (C'84) have been married for 22 years and have two grown sons Nick and Scott. He is the co-owner of a 10,000 head wean-to-finish hog operation and a 500 head cattle operation on their family farm in Delhi, Iowa. Doug also works 750 acres of corn, beans and hay. Active with their church and the Maquoketa Valley Athletic Boosters, Doug has also served on the board of the Silver Edge Co-op for the past ten years, five of them as president.