Dozier Jones ('66)
Football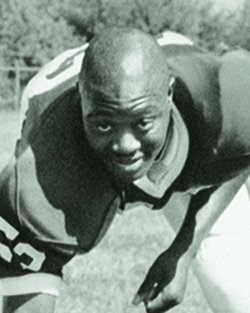 Following a successful athletic career at the University of Dubuque, Dozier Jones (C'66) joined the Marines and achieved the rank of Captain while serving in the Vietnam conflict in 1969-1970. He received the Bronze Star (with Combat V) and the Vietnamese Cross of Gallantry while serving his country for four years. He may have left UD behind, but his enthusiasm for football continued as he played six-man and flag football for the United States Marine Corps in 1967 and 1968.
Dozier competed in three sports while a Spartan, including earning four letters in football for UD from 1962-1965. He earned All-Iowa Conference honors in 1963 as a defensive lineman and in 1964 as a linebacker. He was selected as a Little All-American and was named to NAIA All-District 15 in 1963, 1964, and 1965.
Dozier's experience at the University of Dubuque was one of the turning points in his life, pushing him to excel in his life after graduation. Following his tour of duty, he spent 10 years working for Ford Motor Company as the general field manager in California, responsible for 11 zone sales representatives. He was named regional manager in marketing for Baxter Healthcare Corporation/American Hospital Supply Corporation in 1981, managing 27 employees and had sales in excess of $19 million. His success continued as he was named vice president and area manager for Baxter Diagnostics in Hayward, California, in 1989. He saw potential at VWR Scientific Products in Brisbane, California, in 1995 and led his team to sales of over $215 million as senior area vice president. He founded his own venture, Paxxis, Inc., a premier distributor of clean room equipment and supplies for contamination prevention, monitoring and control for customers in the Western United States and Indochina in 1997. He recently re-joined VWR International, Inc. as region manager for the Pacific Region in 2004 and is working with worldwide sales in excess of $2.7 billion. His 30 plus years of experience in executive sales and sales management, and earning numerous first-place national awards for performance are a direct result of his aggressive endeavors at UD.
Dozier currently lives in Danville, California and has been married to his wife Saundra for 27 years. He has three adult children: Dozier III, Nabs, and Stephanie and four granddaughters.