Eldon Werkheiser ('41)
Basketball - Football - Track & Field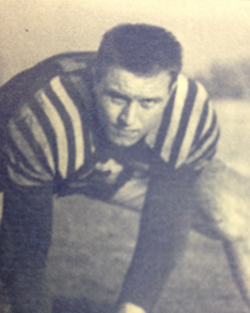 Eldon (Diz) Werkheiser, a native of Stockton, Ill., attended the University of Dubuque from 1940-43. During his days at the university, he was a three-year letterwinner in football, basketball, and track. As a member of the football team in 1941, Eldon was a First Team All-Iowa Conference tackle. In 1942, he was converted to fullback to utilize his power and speed, which helped lead Dubuque to a conference championship with a perfect 8-0 record. That season he finished fourth in the conference in scoring with 52 points on eight touchdowns and four extra points. When Eldon wasn't breaking through the opponent defense, he was playing defensive tackle and held down his side of the line with high efficiency. For his efforts on the field, he was selected First Team All-IIAC at fullback. In 1943, he was a member o fthe college All-Star team. Eldon accomplished a rarity in athletics when he was selected as an all-conference performer at two different positions.
To stay in shape during the off-season, Eldon participated in basketball and track. As a member of the basketball team, he played in Kansas City in the National Intercollegiate Basketball Tournament. Off the athletic field, Eldon was a member of the "D" Booster Club.
Prior to entering military service in World War II, Eldon signed to play professional football with the Washington Redskins. After serving in the military, he was signed by the Philadelphia Eagles but decided to enter into the teaching profession. He coached and taught for one year at Washington Junior High School in the hometown of his college alma mater, where he starred as an all-conference football player. Later Eldon coached and taught at Stockton High School in Stockton. Eldon Werkheiser died June 27, 1976.
A World War II veteran, Werkheiser was inducted into the Northwest Illinois Sports Hall of Fame in 1998.