Fred Van Iten ('67)
Baseball - Basketball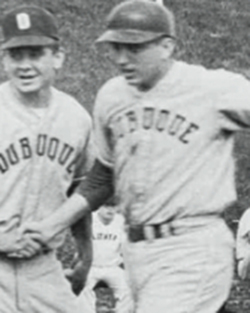 As a University of Dubuque Spartan, Fred Van Iten (C'67) has an impressive record; he was a 3-year varsity starter and all-conference in both baseball and basketball, NAIA Baseball All-American, elected Most Valuable Player, top rebounder and scorer in basketball, and Freshman Athlete of the Year. After accomplishing all of that and playing in only eleven games, batting .320, Van Iten was drafted by the St. Louis Cardinals. He played catcher in the minor leagues for two seasons.
Fred said that choosing the University of Dubuque was an easy decision; he simply followed his brothers Dick, Bob, and Al. Once at UD, he followed his passion for sports (and got a little help from his wife, Judy, in the classroom.
Fred has many Dubuque memories from on and off the field including playing baseball alongside his brother Al, earning a teaching degree and sharing his love of sports, and the birth of his son.
Fred and Judy were high school sweethearts from Peotone, Illinois and were married in 1963. Following graduation, Fred went on to teach and coach high school students in Illinois. He earned his master's degree in safety education from Northern Illinois University in 1974. Van Iten coached Buffalo Grove High School's baseball and golf teams to conference championships and three future major league baseball players; Mike Marshall, Josh Paul, and Tim Bogar. The highlight of Fred's life is his family; his wife of 47 years, Judy, children, David, Kathy and her husband Rich, and his grandchildren Elijah, Emily, and Elizabeth.
Since "retiring," Fred enjoys spending time with his family and staying connected with his brothers and sisters. Fred and Judy serve the Children's Ministry at Willow Creek Church in South Barrington, Illinois. Fred stays fit by exercising, golfing, and maintaining a golf-course like lawn. He continues working with high school kids as an assistant varsity baseball coach at Bartlett High School. Whether on a playground, a court, a green, a diamond, or in a children's Sunday Church Service, he still loves to get out and have a ball!