Gene Siekmann ('35)
Administration - Basketball - Track & Field | Hall of Distinction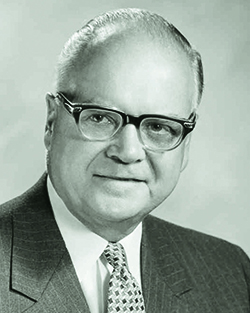 During his tenure as a Spartan, Gene Siekmann (C'35) earned seven varsity letters in basketball and track serving as team captain for both sports in 1933 and 1934. From 1931-35 Gene's winning accomplishments in track were the 220, 440, 880, and cross-country runs; as well as relays, and the Drake Relays. He notes his most memorable "sports moment was defeating an all-state and all-conference athlete at Luther College, in the 440 as a freshman.
Gene's ties to UD continued on after his graduation. Gene was invited to become the first full-time director of admissions for the University - a position he held from 1938-42. During those four years he was largely responsible for the recruitment of student-athletes, and in 1942, partly due to his efforts, UD was named the Iowa Conference College of Champions - reigning in tennis, golf, track, basketball, and football.
In 1946, after four years of service with the United States Army, including combat duty in New Guinea and the Philippines for which he received three battle stars, Gene returned to campus as the Universitys director of public relations. He served in this position for two years, after which time, he became convinced that his future lay in the ministry. Accordingly, he entered University of Dubuque Theological Seminary, graduating in 1951, and subsequently served as a pastor in Aplington, Iowa. During his pastorship, he successfully recruited nine Aplington students to attend UD.
In 1953, Gene once again returned to the University, as assistant to the president in financial promotion and became vice president of the University in 1957. During his tenure in this position, he worked to secure funding used to establish Smith Hall, Goldthorp Science Hall, Dunlap Technology Center, and the C.O. Daniels estate to refurbish Severance Hall.
In 1960, Gene decided to resume the active pastorate, and over the years, has served churches in Minnesota, Arizona, and Germany. That same year, he was elected to the UD Board of Directors, and received an honorary doctor of divinity degree in 1962 for his extensive involvement and contributions to the University over the years.
Gene has been married to his favorite UD alumna Sally (Sessler) (C'43) for 58 years. Sally, who majored in music, has been a music teacher and church music director through the years. They currently live in Sun City, Arizona, and have four children, David, Paula, Gretchen and Daniel. They are also the proud grandparents of nine and one great granddaughter.