Greta Pemsl ('02)
Basketball - Softball - Track & Field - Volleyball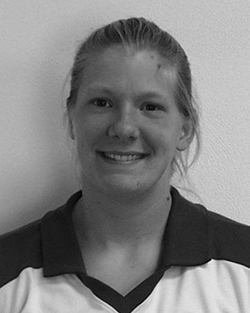 Seeing Greta Pemsl (C'02) sitting down at the University of Dubuque was highly unlikely. Greta was a member of the basketball, track, and volleyball teams for four years and played softball for one year. Greta's love for sports helped her become a very successful athlete and Spartan team member. Greta was a leader on the basketball court, serving as captain in 2000, 2001, and 2002; she made All-Iowa Conference in 2001 and 2002, and All-Region in 2002.
As a volleyball player, Greta made All-IIAC and All-Region in 1999, 2000, and 2001; she was captain in 2000 and 2001. She made her mark on the track by making All-Iowa Conference in 2001; she was a National Qualifier and holds the UD shot put record.
Pemsl continued to be a part of Spartan Athletics after graduation when she served as the head women's track coach and assistant volleyball coach.
Greta is clearly a disciplined, hard working athlete whose leadership can be an inspiration to the University of Dubuque and athletes everywhere. Before coming to UD in 1999, Greta was a successful high school athlete, leading her high school volleyball team to a Iowa High School State Championship in 1997. She also received many high honors in basketball, track, and volleyball including All-State honors.
Although Greta has set a high bar for other aspiring athletes, she also thrived in other aspects of her life. While a student at the University of Dubuque, she made an impact on her friends, classmates, and peers, which was recognized with being elected Homecoming Queen as a senior.
Since graduation Greta has continued her education and earned her bachelor of science in nursing degree. She is currently an Emergency Department nurse in the Chicago area.