Hank Pillard ('57)
Football - Wrestling | Hall of Distinction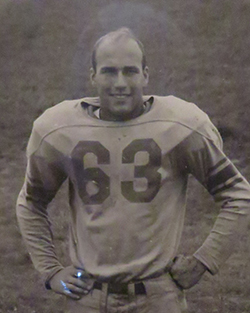 Dedication accurately describes Hank Pillard (C'57) and his contributions to athletics not only at the University of Dubuque but to Joliet Junior College and the world of wrestling. Pillard's passion for wrestling became evident in his years at UD. He was voted team captain of the 1957 team and went undefeated as a senior. Hank also played offense, defense, and special teams for the football team.
It has been in his post-college days where Hank's dedication to athletics has thrived. In 1967 he became the Dean of Students at Joliet Junior College (JJC), a position he held for 20 years. At the same time he coached wrestling and football. At JJC his wrestling teams compiled a record of 268 wins, 43 losses, and 5 ties. He produced 46 All-Americans and eight National Champions.
Pillard also coached the National Junior Pam Am Wrestling team, directed the Joliet International Wrestling Tournament - the largest of its kind, worked for the 1996 Summer Olympics in Atlanta in sports information for wrestling and as the World Cup Wrestling Championship Director.
His phenomenal wrestling career has earned him many awards and acknowledgments including being inducted in the National Wrestling Hall of Fame in 2002. He has also been inducted into the Illinois Wrestling Coaches Hall of Fame, JCC Athletics Hall of Fame, worked as the Olympic Trials Coach, and was recognized by the United States Congress for his work with young athletes from all over the world. Among the many athletic awards he has also earned numerous community awards including the UD Service to Dubuque Award, the Joliet Community Service Award, the USA Wrestling Service Award, and granted a U.S. Patent.
Hank has been instrumental in developing wrestling programs in the junior college arena and youth programs as well as providing service to the USA National and Olympic teams.
Hank lives in Joliet, Illinois with his wife Pat and is still very actively involved in community projects and organizations including the Joliet Historical Society as Vice President and Board Member, and Crime Stoppers of Will County as a Board Member.