James Fox ('63)
Football - Wrestling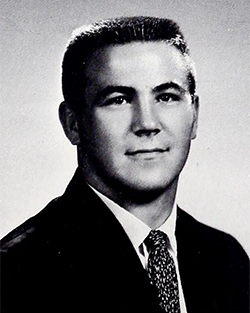 A fierce competitor in wrestling and football, James Fox (C'63) chose to hit the mats and wrestle his way into the UD record books compiling a 55-6 career record. He started every meet during his four years at the University of Dubuque. Jim was elected team captain his senior year and won the Iowa Conference Championship at 157 pounds. He was the runner-up his sophomore and junior years. Tournaments were one place Jim excelled. He won the Knox College Invitational three times, the Wheaton College Invitational twice, and the Coe Invitational the only time he participated. Overall he wrestled in nine tournaments, earning seven first place finishes, and two second place finishes. While at UD, Jim helped his team to two first place tournament wins and four second place finishes.
Jim used his speed and tenacity as a wrestler to excel on the football field as well. The hard-hitting freshman earned a starting role in the Spartans linebacking core, a position he did not relinquish. During the course of his football career he earned four varsity letters to accompany his four wrestling letters.
After 34 years of coaching and teaching Jim retired in 1996. His officiating career involved both football and wrestling. As a football official in the Iowa Conference he was rated number one at his position of back judge, helping to earn him the privilege of officiating four NCAA Division-III playoff games. In 1990, he was rated one of the top three officials in the conference. Jim was also chosen to work as a table official at three NCAA wrestling tournaments in Iowa City as well as a Big Ten meet.
Today Jim and his wife of 41 years, Jane, reside in Bettendorf, Iowa where he was a volunteer firefighter for 20 years. They have two daughters, Kelly of Dallas, Texas and Kerry residing in Chicago, Illinois. Since retiring, Jim and his wife are chairpersons of the Quad-City Times Bix 7 Race committee and are marshals for the John Deere Classic Golf Tournament.