James Martin ('67)
Baseball - Basketball - Football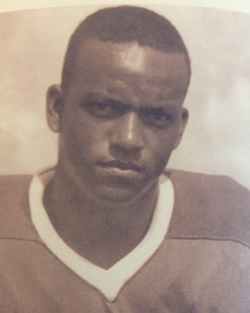 Motivated is a single word that sums up the career of James Martin (C'67) both on and off the field. Graduating from the University of Dubuque with a Bachelor of Science degree, Martin not only excelled academically being named to the Dean's List, he thrived athletically. As a starting safety for the football team he was voted First Team All-Iowa Conference and First Team NAIA All-District 15 in 1964. Martin repeated his First Team NAIA All-District 15 honors in 1965. Nearly forty years later he remains the school record holder for most interceptions in a single season with eight and for most career interceptions with 24.
During his time at UD he earned four letters in football, three in baseball, and three in basketball for a combined 10 varsity letters.
Jim's love of sports followed him from UD. He began coaching football and baseball at Case High School in Racine, Wisconsin. In 1970 he joined the coaching staff of John Jardine at the University of Wisconsin for four years. He also began to referee basketball games and has been working at it continuously since 1982. Over the years, his officiating has taken him to the WIAA High School Basketball Tournament six times, the Wisconsin Private School Tournament, and currently he officiates in high school and Wisconsin Intercollegiate Athletic Conference where he has done both league and tournament games as well as NCAA regional playoff games. His life as an official has even included UD games in Wisconsin.
Away from athletic endeavors, Jim has taken another path. He graduated from the University of Wisconsin Law School in 1977. Jim served as an Assistant City Attorney for the City of Madison, Wisconsin for 25 years. He was elected to and served on the Board of Governors of the State Bar of the Wisconsin Lawyers Mutual Insurance Company and was a Board Member and President of the Wisconsin Trust Account Foundation to highlight just a few.
James currently lives in Madison after a brief retirement to Florida. He is the City Attorney for Madison, supervising fourteen lawyers and eleven support staff members. He was named the State Bar of Wisconsin's Volunteer Lawyer of the Year in 1988 and was a recipient of the State Bar of Wisconsin's President's Award for Outstanding Service to the Bar in 2001.