Jerry Petitgoue ('63)
Basketball | Hall of Distinction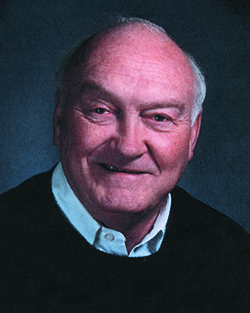 Jerry Petitgoue (C'63), of Galena, Illinois is "far more than a living legend in Wisconsin high school basketball," according to the Janesville Gazette. Petitgoue earned his bachelor of science degree in physical education from the University of Dubuque. He is the winningest basketball coach in Wisconsin high school history with 846 career victories.
In 2012 the University of Dubuque announced the establishment of the Jerry Petitgoue Award. The award honors an alumnus coach who best represents Petitgoue's tenacity, strong work ethic, and care for athletes of any age, at any level.
After graduating from UD, Petitgoue started his career as a social studies teacher and basketball coach in Gratiot, Wisconsin, where he lead the basketball team to a 62-20 record in four seasons. He also taught and coached at Lena-Winslow High School, Galena High School, and Cuba City High School. Petitgoue started as Cuba City's head coach in 1971 finishing with a 20-3 record. Today, with the leadership of Petitgoue, the team has a 784-181 record since that time. In 2012-13 the team finished with a 26-1 record which took the team to the WIAA state tournament for the second year in a row and the eighth time overall.
He has 29 conference championships at Cuba City and three State Championships at Cuba City (1981, 1991 and 1998). Cuba City was the state runner-up in 2012.
Petitgoue is an active community member. He serves on the boards for: American Trust and Savings Bank (Cuba City), Community Development Board Member (Cuba City), and Mercy Hospital and Medical Center (Dubuque). He has been the Director of the Tri-State Basketball Camps for the past 20 years and has served as the past-president and present Executive Director of the Wisconsin Basketball Coaches Association.
Jerry and his wife Joan have three children: Michele, Mark, and Ryan. The Petitgoue's have six grandchildren who they adore. In 1968, he earned his master's degree in history from the UW-Platteville.