Johnny Armstrong ('22)
Baseball - Basketball - Football - Track & Field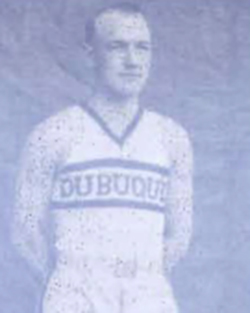 Johnny Armstrong was a four sport standout at the University of Dubuque from the very moment he arrived on campus in 1918, becoming the first student-athlete to win four letters in one season. "Army" was an All-State quarterback, led Dubuque to the conference track title, was the Spartans leading scorer in basketball, and was the top hitter on the baseball team.
Despite standing just 5'9" and weighing 169 pounds, his best sport was football. Armstrong quarterbacked the team to the 1919 and 1920 conference championships while being named to the Des Moines Register's All-State team at quarterback in 1920. A two-time all-conference selection, Armstrong was a wonderful passer, fine receiver, sensational open field runner and above all, a splendid field general.
In basketball he lived up to his reputation as one of the best shots in the Iowa Conference by being named All-State, leading the team in scoring, and helping the team to the 1920-21 league championship. In track he competed in the pole vault, javelin, hurdles, discus, 100-yard dash, and broad jump, leading the Spartans to the 1917 conference title with a conference record jump of 11 feet in the pole vault. On the baseball field, Armstrong was a team captain and shortstop, hitting .643 in 1918, .350 in 1919, and .643 in 1920. His signature moment came when he stole second, third, and home to give UD a 1-0 victory.
After college, Armstrong went on to play for the Rock Island Independents of the early National Football League. He was named Third Team All-Pro quarterback by the Green Bay Press Gazette in 1923. Armstrong played for Rock Island from 1923-1926 and even coached the team during the 1924 season with the team going 5-2-2. On the baseball field he played for the Dubuque Climbers/Dubs/Ironmen of the Mississippi Valley League (Level D) from 1922-25 and 1927-28 and the Oklahoma City Indians (Level A) during the 1926 season. His athletic accomplishments carried over into other worlds as he once equalled the world's tournament record in pocket billiards by making 148 straight shots, won numerous stock car races, recorded four holes in one in golf and was a Dubuque Hall of Fame bowler. He was named to the first class of the Des Moines Registers Iowa Sports Hall of Fame.