Keith Graves ('83)
Football - Track & Field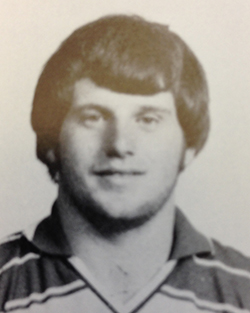 Keith Graves (C'83) came to the University of Dubuque as an all-conference tackle from Osage High School (Iowa). In the fall of 1979, the 6-foot-3 inch, 225-pound tackle contributed to UD's first undefeated football season since 1942 as the '79 team went 7-0 in Iowa Conference action.
It was as a member of the University of Dubuque track and field team that Keith really stood out. He was a four-time Iowa Conference Champion in the shot put, four-time Division-III National Track and Field Championships qualifier, and earned All-American Honors by placing 6th at the national championships in 1982. Graves still holds school records in the Outdoor Shot Put (52'-11.5", 16.14m) and Indoor Shot Put (51'-8.0", 15.75m).
Keith graduated in 1983 with a double major in safety/health occupation and psychology. Currently he is an asset protection manager for various retail companies, and a franchise owner of Pepperidge Farm Bread. Keith and his wife Barb have been married for 26 years and have two children. Keith enjoys spending time with his grandson, fishing, camping, and attending sporting events.