Kenneth "Moco" Mercer
Athletics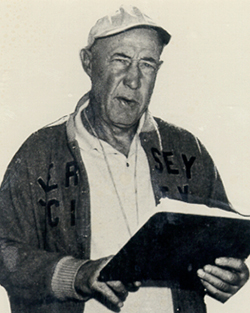 Kenneth "Moco" Mercer began his coaching career at the University of Dubuque in 1939 serving as the Athletic Director and Head Football Coach. During his 30+ years at UD he coached every team on campus, leading each to an undefeated season. Mercer led the football team to Iowa Conference Championships in 1940, 1942, and 1948. His teams won 17 straight games in the 1940's, finishing with an overall record of 95-64-7, best all-time at UD. The Spartans won 14 straight Homecoming games under Mercer's watch. In basketball, Mercer led the Spartans to four Iowa Conference Championships and finished with an overall record of 122-41. The 1943-44 squad went 14-0 playing a war-shortened schedule.
Mercer also had outstanding success in track and field, winning nine Iowa Conference titles including six straight from 1951-1956. In cross country his teams won IIAC Championships in 1959 and 1962. He also coached tennis for two season, guiding the Spartans to titles in 1939 and 1940. In 1960 he was inducted into the NAIA Hall of Fame. The Iowa Sports Hall of Fame came calling four years later as he was apart of the 1964 induction class.
A four-year letter winner at Simpson in football, basketball, and track , Mercer would play six seasons of professional football. He played four seasons with the Frankford Yellow Jackets, and one season each with the Chicago Cardinals and New York Giants. He was named to the All-American Professional Football team in 1928.