Lori (Kamp) Wieters ('83)
Basketball - Volleyball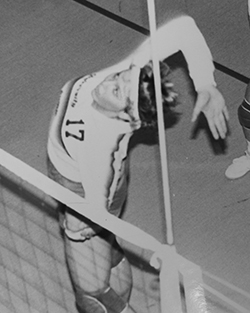 Recruited out of high school to attend the University of Dubuque, Lori (Kamp) Wieters (C'83) performed for three years before women's athletics was officially sanctioned by the NCAA in 1982. Lori was a started and First Team All-Iowa Conference performers for the women's basketball and volleyball teams.
As a basketball player she ranks ninth all-time with 461 rebounds averaging 7.3 rebounds per game. Lori also started in volleyball finishing with a career hitting percentage of .310. Her overall best season for hitting percentage stood at .378 and she had 124 blocks - she was surely a force to be reckoned with! The Spartans finished 6-0 at the Iowa Conference Tournament to win the first IIAC Championship in 1982 while achieving the schools first national ranking.
When asked about her time at UD, she states that she, "blossomed and learned to be a leader." And what a leader she was!
After graduation, Lori earned a Masters Degree in Management and a PhD in Organizational Management with an emphasis in Human Resource Management. Her education has allowed her to become an expert in leadership development, executive coaching, and team building, culture change, and organizational retention. Currently Lori is a Development Manager at a health care organization and works as an adjunct college professor who specializes in Management, Leadership, & Human Resources. When she is not working, Lori enjoys spending time with her husband of more than 20 years Steve, her three children and two grandchildren!