Maurice "Maury" Waugh ('62)
Athletics - Baseball - Football | Hall of Distinction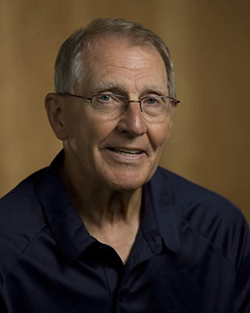 Maurice Waugh (C'62), better known as Maury, graduated from the University of Dubuque in 1962. As much as Maury would love to be present to accept the induction into the University of Dubuque Athletic Hall of Distinction (and to celebrate his 50 year reunion) he cannot make it back to campus because he is still actively coaching today as the Inside Linebackers Coach at Trine University in Angola, IN!
Maury was a four-year starter at Fullback and Kicker for the Spartans under Hall of Fame Coach Moco Mercer. He also participated in Baseball during the Spring of 1962, when baseball returned to the University of Dubuque as a varsity sport. The highlight of Maury's athletic career at UD was kicking a field goal to beat the powerful Parsons. The final score was 16-13.
After graduation, Maury stayed at the University of Dubuque to coach as an assistant. In 1969 he became the head football coach and in 1972 was voted Iowa Conference Coach of the Year. He spent six seasons as the UD Head Coach. Maury has had the good fortune to coach football for over 51 years, including 46 of those at the college level. Some of his coaching accolades include nine years at Northwestern (Big Ten Conference) where he spent time under former NFL Coach Dennis Green.
Coaching runs in the Waugh blood line, as three out of his four sons went on to coach. Tucker is working as Slotback Coach and Recruiting Coordinator at West Point; Ethan is the Senior Personnel Assistant with the San Francisco 49ers; and Adam is the Safeties Coach at Louisanna-Monroe. His other other son Jordan, is an administrator at the University of Illinois - Chicago. Although Maury's wife Sandra did not attend the University of Dubuque, she still has many fond memories and friends from their time here. Maury and Sandra enjoy spending time with their four sons and their seven grandchildren!