Mike Masters ('81)
Football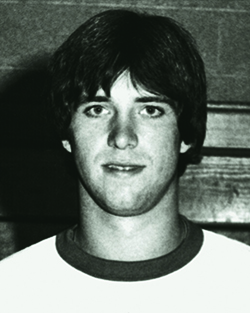 As a Spartan, Mike Masters (C'81) was a four-year letter winner in football and was a two-time All-Iowa Conference First Team selection as a running back (1980 and 1981). He led the conference in scoring, was the rushing leader and helped lead his team to the NCAA Division-III Playoffs in 1980 and 1981. He was named UD Offensive Player of the Week so many times the team nearly named the award after him.
Mike was a member of three Iowa Conference Championship teams, claiming titles in 1978, 1979, and 1980. As a freshman in 1977, he ranked third in the conference in rushing, gaining 454 yards on 112 carries (4.1 yards a carry). During his junior year, he carried the ball 114 times and gained 504 yards (4.4 average). His senior year he again gained 504 yards in just 107 rushes (4.7 average).
The team in 1979 ran past their conference opponents to an undefeated season, finishing a perfect 7-0 conference mark and a 9-1 overall record it's first outright championship in 31 years. UD led the league in team rushing with 1,559 yards. Coach Don Birminghams team went 1-9 in 1976, a year before Mike joined the team. During his four seasons with the Spartans, he was a member of a team which finished 20-8 in the conference and 28-11-1 overall.
Not many defenses could stop, much less slow down this running back during his football career at the University of Dubuque. His high school accolades led him to state in football, track and basketball. He brought the winning spirit and his love of sports with him to UD.
Masters success began in high school where he was named a first team all-state running back, first team all-conference and led his team to a runner-up finish at the state championships in 1976 in football. He played in the 1977 Iowa Shrine Bowl All-Star Football Game as a running back. He saw success away from the football field as well, winning the state title in 180 hurdles in 1975 and placing runner-up in 180 hurdles in 1977 and runner-up in high hurdles in 1976 and 1977 in track and field. He also helped his basketball team to qualify for the state tournament in 1976 and was an all-conference selection in basketball in 1976 and 1977.
Mike and his wife, Kim, live in Albert City, Iowa, have been married for 21 years and they have two children: a son Logan and a daughter Slone. He has been employed at Transcontinental Cold Storage for over 20 years and is currently the head manager for the company. He spends his free time volunteering with youth sports including coaching Little League, ASA Softball, and various youth basketball teams. He also spends time officiating baseball, softball, and basketball tournaments.