Rena (Hutchins) Edgerton ('49)
Basketball - Cheerleading - Swimming and Diving | Hall of Distinction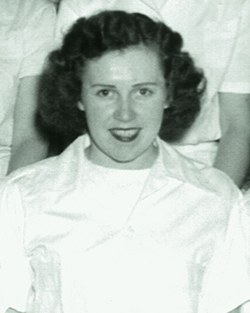 When students enter the University of Dubuque, they are told that one key to a great college experience is to do just that - experience as much as you can and get involved. If there was ever a shining example of someone who took this idea to heart, it would be Rena (Hutchins) Edgerton (C' 49).
Rena graduated 55 years ago with a lengthy list of significant accomplishments. During her years at UD, saying she was a top athlete as well as an student is an understatement. Her primary sports, swimming and diving, were the areas of her greatest accomplishments. In addition to breaking all existing records at the time, she continued to better her own marks throughout her tenure. Rena was also on the Spartanettes basketball team and was a cheerleader.
If you can't seem to find an organization that fits, then why not create one! Rena did just that in 1948 by founding and being the first president of the University of Dubuque organization called the Womens Athletic and Recreation Association (WARA). The purpose of WARA was to encourage and provide opportunity for the participation in various sports offered on campus. The group developed a point system to allow woman to earn letters, emblems, awards, and varsity sweaters. Besides many sporting activities, the WARA sponsored several annual functions like Christmas Capers, the Gingham Ball, and the Water Ballet.
Off the court and out of the water, for three years Rena was a member of Zeta Phi and served as president her last year, was a member of YWCA her four years serving as secretary her last year, was recreation chairperson, a member of House Council serving as treasurer her fourth year, was a member of the Key Yearbook staff, was in orchestra and band, in the Spartan Club and Pan American Club, Play Nine Girls, IFTA, and in Purple Masque, an organization created for the purpose of recruiting material for all phases of play production.
She held membership in the San Diego Track and Field Association and she authored a study guide to Track and Field for women. Her academic endeavors did not end with UD. She attended the University of Iowa, San Diego State, and Augustana College. Rena Edgerton was an outstanding example of an active UD student as well as a person who truly possesses a zeal for life-long learning.
Rena married George Edgerton and currently lives in La Mesa, California. While a student at UD she majored in physical education.