Rick Steil ('81)
Football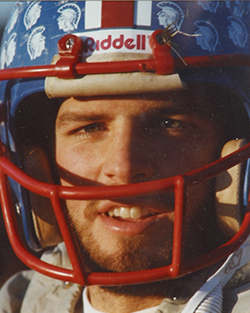 Rick Steil (C'81), a native of Dubuque and a graduate of Hempstead High School, led his hometown Spartans to three straight Iowa Conference Championships from 1978-80. A four-year starter at quarterback, he finished with a four-year record of 28-11-1 overall and 20-8 in the IIAC. In 1979, he was named the Iowa Conference MVP and First Team All-IIAC. As a senior he was named Second Team All-IIAC. His ability to run the offense led Dubuque to back-to-back NCAA Division III playoff appearances.
Outside of his success on the gridiron, he was also the starting second baseman on the Dubuque baseball team as a sophomore, hitting .293.
Steil earned his BA in marketing from UD in 1981 before attending the Brooks Institute in Santa Barbara for photography. Photography has taken Steil around the globe; working in New York, Paris, Milan, and Tahiti to name a few.