Robert Glenn ('67)
Football - Wrestling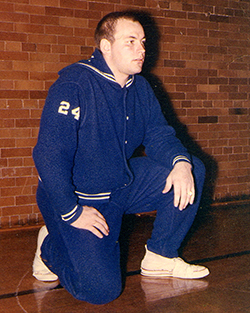 In 1962, at the end of Bob's senior year of the high school football season, he was approached by University of Dubuque Head Coach Owen "Skip" Evans to see if he would play football for UD. Bob's high school superintendent and his wife had taken Bob to a UD game that season and the rest is history!
Bob Glenn counts the four years he spent at the University of Dubuque as some of the best years of his life. Coming from a small town in Iowa, the opportunity to meet people from all over the country was thrilling. Bob Lettered in football all four years and was named NAIA All-District during his senior year. Not only did he letter all four years in football but he also lettered all four years in wrestling. He feels that he participated with a great group of guys in both sports.
Bob recalls the dedication of UD's instructors and coaches and credits their involvement to the success of each and every student at the University of Dubuque. If you were willing to work, they were willing to help you succeed. One of the coaches that made a difference in Bob's life was Moco Mercer. Coach Mercer helped Bob believe in himself and encouraged him to wrestle.
One of the highlights of his athletic career was winning the Iowa Conference Heavyweight Championship in 1966 and 1967. During his last three years of wrestling he placed fourth, second, and third at the Wheaton Tournament (Chicago) where over 30 teams were in contention. One of Bob's biggest accomplishments was beating a Notre Dame wrestler during a competition. Another fond memory was participating in the 1967 McMurray Tournament and placing second. He was wrestling co-captain with Obie Sadler his senior year.
Athletics, although important, were only one part of Bob's life during his four years at UD. He was able to make lifelong friendships with the students he met. Bob and his wife Judy met during their sophomore year and were married the summer before they graduated in 1967. They were married on campus in Guy Chapel, located in Van Vliet Hall, by the college chaplain, Dr. Roger Woods.
Since Graduation, Bob has taught and coached in Bettendorf, Iowa at the middle school level for 33 years. He also coached wrestling for 29 years with Tom McCutcheon, another UD grad. During his coaching career he had 112 dual meet wins in a row, coached a Division-I National Champion, a two-time Division-III National Champion, and many others who went on to wrestle in college. Bob also coached junior high football and received the Don Taft Memorial Junior High coaching award in 1986 from the Iowa Football Coaches Association.
Judy and Bob were blessed with three children, six wonderful grandchildren, two son-in-laws and a daughter-in-law. Bob contends that UD prepared him well and that he was blessed to have the opportunity and the experience.