Robert Purcell ('52)
Basketball - Football - Track & Field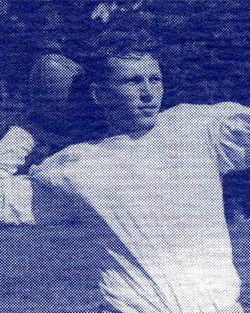 Robert Purcell, a native of Anamosa, Iowa, was a four-year letterwinner in football. During his senior season he captained the football team and was recognized by the Associated Press for his all-around play by naming him Honorable Mention "Little" All-American. Purcell was also picked for the first team of the United Press Iowa Conference All Star Eleven. In 1951, Purcell quarterbacked the football team to a triumphant victory at Pella for coach Moco Mercer as the Spartans overpowered Central College 27 to 7. In that game Purcell scored three touchdowns, a like number of extra points, threw a touchdown pass, and rushed for 235 yards. In addition to his football talents, he was a powerful force on the Spartan basketball squad where he earned four varsity letters. On the hardwood he averaged 10.5 points per game his senior year. His athletic skill carried over to the track field where he was a member of the powerful track squad. Purcell lettered three years in track, and Coach Mercer could always count on Bob Purcell to garner points in the pole vault and 100 yard dash.
Outside the athletic field, Robert was involved as a four year member of the "D" Club serving as secretary-treasurer his junior year and president his senior year. He was a four year member of the Athenaean Fraternity serving as vice president his senior year. During his junior year, he was a member of the Key yearbook staff.
Following graduation in 1952, Purcell spent two years in the Army at Fort Sill, Oklahoma, and then entered the University of Iowa where he received his master's degree in school administration in 1955. He then spent the next 10 years as a teacher, coach, and administrator at Jesup, Iowa and then at Prairie High School in Cedar Rapids, Iowa. After serving 10 years in the Iowa school system he moved to Kirkwood, Missouri, where he was in junior and senior high school administration for 25 years.
He retired in 1990 and lives in Kirkwood with his wife, Helen.