Robert Raleigh III ('94)
Football - Track & Field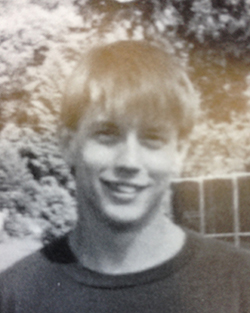 Robert W. Raleigh III (C'94) was one of the fastest men in the nation in track and field in the early 1990's, but today he spends his days helping homeowners find the perfect roof for their historical dream home. Restoration requires hard work, attention to detail, a respect for craftsmanship, and the professionalism of a job well done. He has taken these qualities learned at UD into his current company.
Raleigh was a four-year letter winner in football earning First Team All-Iowa Conference Defensive Back honors in 1993 as a senior. His success continued on the track winning the 100m Dash and 200m Dash at the 1994 Iowa Conference Outdoor Championships. He would go on to earn All-American honors with fifth place finishes in the 100m Dash and 200m Dash at the NCAA Division-III Championships. He was team captain in football and track.
After college, Raleigh was a sales and marketing manager for a company which produced historical tile and slate roofing materials. Since 1996, Robert has been vice-president and general manager for Renaissance Roofing, Inc. a company that provides tile, slate, and copper roofing systems exclusively for historical restoration work as well as other roofing applications. He has helped increase yearly revenue by 500% in seven years with a full-time staff of 45 people.
He is married to Nelly Seyller and they have three children: Robert IV, Isabella, and Jacqueline. They reside in Loves Park, Ill.