Colonel Robert Wicklund ('53)
Basketball - Football | Hall of Distinction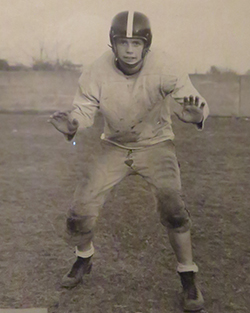 Fifty years have passed since Col. Robert "Wick" Wicklund (C'53) left the University of Dubuque. In that half century he has excelled where others have merely dreamed. Over the course of the years he's seen the world yet remained a solid supporter of the University and its athletic programs.
Wicklund's devotion to athletics began while he was attending UD; he was a member of the Spartan football team earning four letters, was elected team captain, and honored as a selection to the All-Iowa Conference football team in 1952. "Wick" also played on the men's basketball team for a season. Academically he was an outstanding student, majoring in physics.
Based on his academics, he achieved a commission in the United States Air Force. He became a meteorologist and later served as a navigator during the Vietnam War. He also worked as a severe weather recon officer, completed Air Navigation School - becoming a navigator on B-47, B-52, and FB-111 aircrafts in Strategic Air Command. He saw action as a fire control officer on AC-130 gunship aircraft in which he flew more than 25 missions in Southeast Asia. He was awarded the Distinguished Flying Cross among numerous other medals. Over the course of 30 years in the U.S. Air Force he worked his way through the ranks until retiring as a senior officer at Strategic Air Command Headquarters as a colonel in 1983.
Despite his busy military career Wicklund devoted time furthering his education, earning a master of science in engineering administration from Southern Methodist University in Dallas, Texas. He has also devoted time serving as a member of the University of Dubuque Alumni Association Board of Directors. He is also a strong supporter of the Blue and White Club as well as the entire athletic department.
Since his retirement, Col. Wicklund and his wife Joan live in Bellevue, Nebraska.