Roger Little ('88)
Football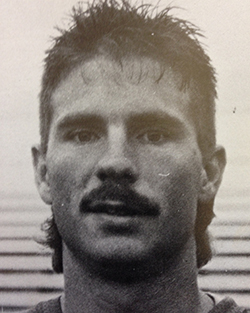 Known as the University of Dubuque's "Little Big Man" Roger Little (C'88) left his mark on both UD's and the Iowa Conference's record books. During his senior season he finished second in the nation in receptions in Division-III with 79 catches, only one short of the national leader. At the same time, his 79 receptions for 1,025 yards broke school records in each of the categories. While his 65 receptions in IIAC action broke a 22-year old league record. He also won the conference receiving title by an astounding 30 catches. As a tight end he was the Spartans second leading scorer with 44 points as well as the starting punter with a 35.3 yard average. He was a two-time All-Iowa Conference selection (First Team - 1988, Second Team - 1987).
For his play as a senior, Roger was named Honorable Mention Associated Press "Little" All-American and was a Third Team Don Hansen National Weekly Football Gazette All-American in 1988. In that same season he was a First Team Pizza Hut Division-III All-American, team MVP, First Team All-Iowa Conference, and NAIA All-District. Upon graduation he was recruited and played for the Colorado Springs Spirit Football team of the Minor League Football System and was also scouted by the Dallas Cowboys in 1988.
Roger's love of sports has stayed with him through the years, going from athlete to coach. He is a volunteer football coach for the Aquin J.H. Football team and also manages his son's Pee Wee Little League team. Married in 1989 to fellow UD grad Cathy (Budenz), the couple has two children, Blake and Erica. The Littles reside in Freeport, Illinois. When he isn't coaching or spending time with his family Roger is currently working as a Traffic Manager for Behr Iron and Steel in Rockford, Illinois.