Roger Waialae ('90)
Football - Golf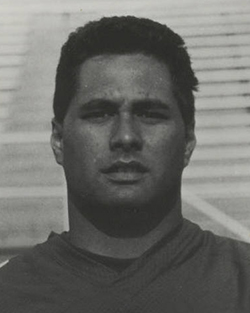 With a passion for athletics, Roger Waialae (C'90) has spent the majority of his life on the football field, striving for greatness. Not only great at Football, Waialae was twice named MVP of the University of Dubuque Men's Golf team, successfully participating in two sports while juggling life and classes.
As a senior in 1988 he was named Honorable Mention Pizza Hut Small College All-American, Honorable Mention Associated Press "Little" All-American, and Team MVP. In two seasons at UD he broke 21 school records threw 36 touchdown passes and passed for over 4,100 yards. Waialae was honored with the Moco Mercer Outstanding Athlete Award by UD during the 1988-89 season and eventually went on to sign with the Munich Rangers of the German Professional League in 1989. At the time of his graduation, Waialae held the school record for career passing yards (4,127), completions (318), pass attempts (697), and passing touchdowns (36). He was named Second Team All-Iowa Conference in 1987 as a junior setting school records in passing yards (2,283) and attempts (375).
Waialae has been coaching since graduation and loves it. He spent the 1989 season assisting at the University of Dubuque before signing as quarterback/Offensive Coordinator in Germany. He spent two years at Bethany College (W.Va.) as the Offensive Coordinator and was their Head Men's Golf Coach. After his stint at Bethany, he went on to coach 13 years as Offensive Coordinator at West Liberty University and eight years as the Head Men's Golf Coach. Currently Roger is entering his fourth year as Head Football Coach at WLU. He has twice been named Golf Coach of the Year and has taken his teams to eight straight NCAA Tournaments. To date, Roger has West Liberty's highest winning percentage. His wife Karen is currently the golf pro at Oglebay Resort; his son Ryan graduated from Western Kentucky last May, and his two daughters Kayla and Laura are in high school.