Russell Spearman ('62)
Football - Track & Field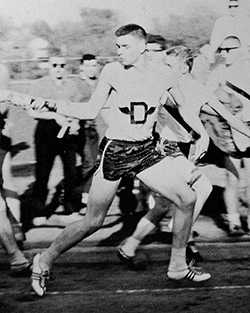 When Russell Spearman (C'62) arrived at the University of Dubuque, he literally and figuratively hit the ground running! A four-year letter winner in Football and Track, Spearman really set the pace for UD Athletics in the early 1960's. Starting as a guard all four years, Spearman was All-Iowa Conference in 1960 and served as Co-Captain as a senior. Russell was a great advocate for school spirit having served as the D-Club President during the 1961 school year.
Excelling not only in Football, Spearman dominated the track during his time at UD. Some of his greatest accomplishments were being a member of two Iowa Conference Championships (1959 and 1961). He won the IIAC title in the 220 yard Low Hurdles in 1960, 1961, and 1962 and also ran on the title winning Mile Relay team in 1959 and 1961.
After graduation Spearman went on to teach high school math in Albia, Iowa and Pleasantville, Iowa while also serving as Head Track and Football coach. Russell currently enjoys spending time with his sons, Michael and Jeffrey. He owns and operates a trucking company called RJS Services.