Sara (Gassmann) Higgins ('01)
Volleyball - Softball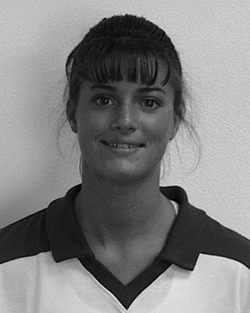 Sara (Gassmann) Higgins could best be described during her time at the University of Dubuque with one word, "first." Sara was named First Team All-Iowa Conference and First Team AVCA All-Region in volleyball during the 1997, 1998, and 1999 seasons. Though the accolades didn't stop there being named Second Team All-Iowa Conference and Third Team NFCA All-West Region in softball in 1997. During Sara's years at Hempstead High School in Dubuque, she was selected First Team All-State in volleyball.
The highlight of Sara's athletic career at UD was traveling with the Division-III USA International Volleyball Team, going from Holland to Belgium in 1999. In addition, she enjoys traveling, in fact her first time on a plane was during her freshman year, traveling to Texas with the volleyball team. In 1998, the Spartans qualified for the NCAA Division-III Championships with Gassmann leading the team in Kills (473), Digs (678), Sets Played (131), Matches Played (35), Kills per Set (3.61), and Total Attacks (1280). Sara also earned the Kenneth "Moco" Mercer Memorial Scholarship, which is awarded to an outstanding senior student in physical education.
After graduation, Sara continued to work at Young-uns Childcare Center, where she was the Assistant Director for 11 years. In 2002, Sara married Matt Higgins (C' 00), they now have three children, Maci (11), Bode (9), and Ty (6). Over the past six years, she has enjoyed being a stay-at-home mom, and now keeps busy with her children's athletic schedules. The Higgins family resides in Spirit Lake, Iowa.
Volleyball Accomplishments:
• 1st Team All-Iowa Conference (1997, 1998, 1999)
• 1st AVCA All-Central Region (1997, 1998, 1999)
• Division-III USA International Volleyball Team (1999)
• 5th All-Time in Division-III Digs per Game: 4.67 *
• 6th All-Time in Division-III Consecutive Matches: 139 *
• 9th All-Time in Division-III, Total Kill Attempts: 4321 *
• 13th All-Time in Division-III Digs per Game: 5.74 *
• 24th All-Time in Division-III, Matches Played: 139 *
• Broke previous Career Dig Record in NCAA: 2,369 (Previously 2,279) *
* At time of Graduation
• School Records: Career Digs (2369), Career Sets Played (507)
Softball Accomplishments:
• 2nd Team All-Conference (1997)
• 3rd Team NFCA All-West Region (1997)
• School Record: Single Season Triples (6 in 1997)