Scott Berry ('63)
Football - Track & Field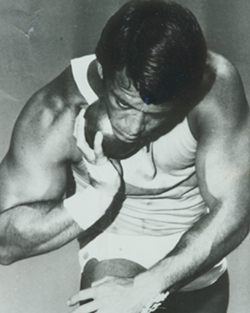 Scott Berry was an All-Iowa Conference performer in both football and track. He was a four-year letterwinner in track from 1959-1963, rewriting the school and conference record books in the shot put. He was the Iowa Conference shot put champion in 1962 and 1963, setting new school and league records in the event each season. His senior season he was undefeated in the shot put, setting the conference record at 51' 11 3/4" and the school record at 52' 3.0", which stood for 21 years. His senior season of 1963 he finished fifth at the NAIA national meet, captained the track team and was named the school's Most Outstanding Athlete. He was a member of the Spartans 1961 team that won the Iowa Conference Team Championship.
In football he led Dubuque in rushing from his fullback position in both 1960 and 1961 and was named All-Iowa Conference both seasons. In 1961 he topped the conference in scoring and was named an honorable mention NAIA Little All-American. In his four years at UD he rushed for 1,521 yards and 16 touchdowns.
Following graduation he continued to compete in the shot put and discus at summer AAU and United States Track and Field Federation meets. He placed fourth at the 1968 Canadian Olympic Championships in the shot put. In 1973 he broke the all-around weight throw record at the Iowa AAU meet competing in the shot put, discus, javelin, hammer, and 56 lb. weight throws. He set career bests of 55-feet in the shot put and 170' 10.0" in the discus. He later turned his attention to the sport of racquetball and was Illinois state seniors champion three times and Midwest regional state champion twice.
The Davenport, Iowa, native is currently a counselor at Belvidere High School in Illinois.
- from 1990 Hall of Fame program