Scott Harris ('84)
Baseball - Golf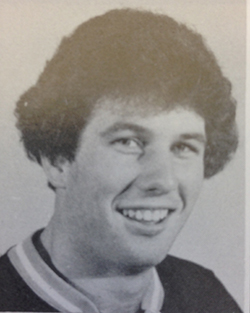 As a University of Dubuque Spartan, if Scott Harris (C'84) wasn't swinging a golf club, he was swinging a baseball bat. Harris has always taken his athletic career seriously, and his dedication to sports has been evident throughout his lifetime. He lettered all four years in baseball and golf at UD, proving his dedication to the University of Dubuque and his teammates through his athletic commitments.
As a Spartan, Scott shot a school record low round of 66 in a dual meet against Loras. On the Baseball Field, Scott received First Team All-Iowa Conference and First Team All-Region as a senior in 1984 and Second Team All-IIAC as a freshman in 1981 after hitting over .400 and holding a .500 on base percentage. As a senior he hit over .400 in Iowa Conference action.
Scott's athletic career did not end upon graduation from the University of Dubuque in 1984. He has been playing semi-pro baseball for the Farley Hawks for over 30 years. Within those 30 years, the Hawks have won over 60 tournaments and Harris has received eight MVP awards. Scott coached under Dennis Rima as an assistant baseball coach at UD, and has coached baseball, basketball, and football over the years at Dubuque Senior, Western Dubuque, and Dyersville Beckman high schools.
Scott feels that his athletic career has helped him in many facets of his life. Aside from playing and watching sports, he enjoys spending time with his wife Julie, and his two daughters and two sons. Scott is vice president of Harris Yamaha Golf Carts, which has won numerous Yamaha awards.