Stacey (Gassmann) Ruff ('95)
Volleyball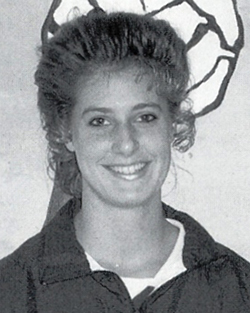 Stacey (Gassmann) Ruff led the University of Dubuque Volleyball program to its first NCAA Division-III National Tournament berth in 1994 as a senior. Following the season, Ruff was named GTE/CoSIDA Second Team Academic All-America and First Team CoSIDA All-Region for her outstanding achievements on the court and in the classroom. She also earned First Team All-Iowa Conference in 1992 and 1994 while being named a Second Team All-IIAC performer in 1993. As the team MVP in 1992 and 1993, Ruff was the career leader for kills in a season until 1995 and recorded more than 1,000 digs in her career. She received UD's Moco Mercer Award in 1993 and was also named academic all-district and all-conference that year.
Ruff Followed her playing career with a stellar coaching stint at UD. In her first year as head coach in 2001 she guided her team to a 20-13 overall record, including a fourth place league finish. Ruff this with a 17-19 record in 2002 and a 19-15 record in 2003, good for third in the Iowa Conference. During her tenure she produced five all-conference players, and her team was named to the American Volleyball Coaches Association All-Academic list each year while amassing a 56-47 career record.
Now the head coach at Augustana College, Ruff's squad posted a 19-15 record in her first year, an improvement from the 10-25 mark in the year prior to her arrival.
Ruff earned her Master's degree in Reading Education from the University of Northern Iowa in 2002. Married in 1994 to Eric Ruff, they have three children: Kayla, Kelsey, and Kora.