Tim Finn ('82)
Baseball - Basketball - Football - Track & Field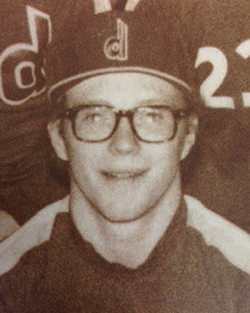 Tim Finn ('82) is proud of being on the Dean's List during his University of Dubuque years and also his contributions in four sports at UD. It is his love of football that continues today in an area where high school stadiums resemble large college facilities and where major colleges recruit the future college and NFL stars. To Finn it's the only place to be on Friday night, coaching Texas High School football.
Finn was a four-sport student-athlete (baseball, basketball, football, and track) at UD. He was a four-year starter in baseball and football, serving as team captain in football as a senior. He led the Spartans baseball team in hits (43) and runs scored (31) as a junior and hit over .300 as a junior and senior. He was also named Freshman MVP on the basketball team.
Finn ranks first all-time at UD in career rushing touchdowns (28) and is second in career rushing yards (2,463). His 931 yards rushing as a senior is the third best single season total. He is a two-time NCAA Academic All-American (First Team - 1980, Second Team - 1979) and received an NCAA Postgraduate Scholarship to attend Lubbock Christian College where he earned a masters degree. Finn was a member of the Spartans three straight Iowa Conference Champion winning teams from 1978-1980. He was named Second Team All-IIAC in 1980.
While a student at UD he was a member of New Que, Mu Sigma Beta, was honored with the Business Administration Award, and was named to the Dean's List every semester. Finn's love of sports continued after college, and he was named Assistant Coach of the Year by the Greater Houston Football Coaches in 2000. He was named head football coach and athletic director at Texas City High School in 2001. He was honored as the Bay Area Coach of the Year in 2001 and District 23 Coach of the Year in 2004. Finn helped coach Texas City HS teams to Texas High School State Titles in 1997 and 1999.
He and his wife Cindy of 11 years have three children: Timothy Rogan, Bailey, and Riley. They reside in Texas City, Texas.