Todd Cox ('82)
Baseball - Football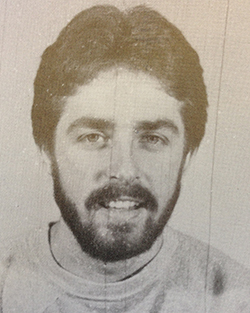 Whether he was swinging a bat or kicking a football, Todd Cox (C'82) took Spartan athletics to a higher level. While some students only have the discipline to play one sport during their college years, Cox made time for two: Baseball and Football. Many people remember how great a kicker Todd was, but he also excelled at Baseball - during his time at UD he set the school record for most triples in a single season with five.
Todd was a four year starter at kicker for the football teams that won three straight Iowa Conference championships. Cox set school records in career extra points (86), career field goals (30), career punt average (37.0), single season extra points (29 in 1980), single season field goals (9 in 1980), and longest field goal (51 yards).
Cox fondly remembers the UD game versus Central during his freshman year where he kicked three field goals, the last as time expired to defeat the Dutch and claim the IIAC championship in 1978. During his time at UD many NFL scouts visited, and he eventually signed with the Chicago Bears.
Todd remains an active alumnus, returning to campus often - he even played in an alumni football game! He has three beautiful children, Charlie who is thirteen, Cory who is eight, and Cassie who is seven. Family is very important to Todd and his wife Becky and they try to do everything together. Todd graduated with a degree in physical education and has enjoyed teaching special education and coaching.