Tom Cummings ('74)
Cross Country - Tennis - Track & Field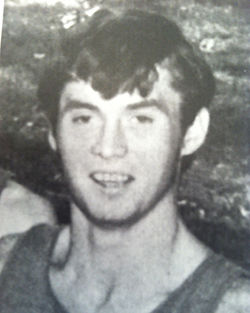 A fierce competitor in tennis and track, Tom Cummings (C'74) chose to run his way into the University of Dubuque record books as a cross country runner. As a freshman Cummings placed ninth at the 1969 Iowa Conference Cross Country Championships. As a sophomore, Tom placed ninth at the NAIA District 15 Cross Country Meet and 11th at the IIAC Championships. With each year he continued continued to grow as an athlete and also a leader, serving as co-captain of the cross country team. During the 1971 season, Tom competed in the NAIA National Meet in Kansas City as part of the NAIA All-District Team. At the IIAC Championships that season Tom experienced one of his career highlights. He finished in second place with a time of 21:20 in the four mile race making him one of the top cross country runners in UD history.
Tom's passion for sports flowed outside of college and off the track. Volleyball and softball would keep Tom "running" for years to come. From 1978-88 he played many roles in volleyball. He served as State Commissioner for the United States Volleyball Association, was certified as a Regional USVBA Referee and for 17 years coached the USVBA junior girls volleyball team. From 1975-86 he participated in ASA and USSSA slow-pitch softball capturing four state open championships and three regional championships.
Continuing to explore new activities, Cummings enjoys golfing, tennis, bicycling (17-time RAGBRAI veteran), and snow skiing. Experiencing what few have, Tom has scuba dived the Great Barrier reef in Australia and skied a glacier in Chamonix, France.
Over the past 28 years Tom has advanced in his career at John Deere. He actively volunteers for Junior Achievement and Partners in Education. Tom and his wife Melodie have two boys, Clinton and Garrett.