Tony Schavone ('51)
Athletics - Football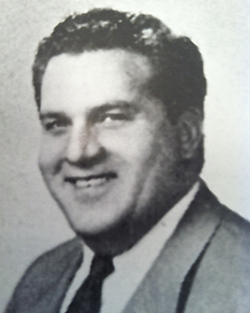 Tony Schavone (C'51) last visited the University of Dubuque during Homecoming 1995. Only a year later, on November 13, 1996, he passed away in South Dakota where he lived over half his life. Schavone's wife Alyce is thankful he was able to revisit campus where he enjoyed so many good times as a student, athlete, and coach.
Schavone first arrived on campus in 1947 after serving in World War II as a combat medic and being decorated with two purple hearts, the bronze star, the combat medical badge, victory medal for Europe, the German Occupational medal, and the European African combat medal with two stars. Tony's ability to work as a team member and to assist others made him an outstanding athlete and coach. As a student, Tony played football all four years and won an Iowa Conference Championship in 1948.
Tony graduated in 1951 and began what would be a long and prosperous coaching career. From 1951-1957 he was the line coach for the football team. In 1952-53 Schavone took over as the Head Wrestling Coach. Under Tony's direction the UD wrestlers (known as Tony's Twisters) placed third in the Iowa Conference. In 1954 he moved from the mat to the court as Head Men's Basketball Coach, a position he would hold for three years. Continuing his education, Tony earned his master's degree in psychology and guidance from Indiana University.
In 1957, Tony and his wife Alyce (C'51) moved to Spearfish, South Dakota, where Tony continued to earn a distinguished reputation as a coach. For eight years, Tony would serve as Black Hills State College's (BHSC) Head Wrestling Coach. Tony is credited in helping develop the high school wrestling program in South Dakota that has developed a number of Olympic gold medal winners. Under his direction BHSC won three SDIC championships and never lost a conference dual. His team's win-loss record was 48-23-3. BHSC recognized Tony's endeavors choosing him as Outstanding Instructor of the Year in 1965. Tony's accomplishments were noticed nationally as he played an instrumental part in establishing the National Association of Intercollegiate Athletics Wrestling Coaches Association and was one of the original members of the U.S. Olympic Wrestling Committee. His work as NAIA Historian, President and Secretary/Treasurer of NAIA wrestling coaches association earned him a place in the NAIA Hall of Fame class of 1977. Honoring his career and retirement, Black Hills State University inducted Tony into the Hall of Fame in 1985 where an athletic scholarship is awarded in his honor.
Tony and Alyce have a son, Peter, daughter-in-law, Kim, and three grandchildren, James, Kala, and Toni. Peter has returned to campus with Alyce who is accepting this honor on behalf of Tony.